Are you searching for eLearning outsourcing solution? Look for content which is rich in experience sharing. This will help to draw visitors in the learning environment. Remember that the content is the fundamental and vital part of learning activity and it helps to determine the success of the exercise. However, it is true that interactive content creation quickly and regularly can be a daunting assignment. Besides, the delay in content publishing or poor quality can affect the whole learning procedure. In such a context, it is good to consult a right vendor who can offer you significant cost and time saving solution. Nevertheless, you must check the infrastructure of the vendor to make sure it can support quality and timely delivery. It is also important for you to see whether one vendor can competently handle a project or would divide it amongst several parties? If you are aware of your eLearning requirement, you can actually opt for a more successful vendor.
Let's weigh up in this regard the top five reasons to choose eLearning outsourcing: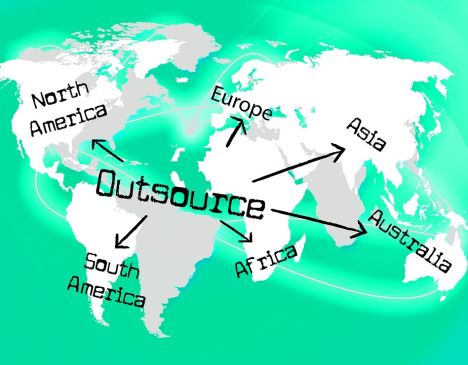 Considerable cost savings – No, doubt, this a major reason for outsourcing. If you go for eLearning outsourcing, it helps you to reduce your fixed costs and influence scalability of service providers. Many organizations have reduced savings to 40% by outsourcing. Irrespective of whether you are a corporate organization or training, you can profit by outsourcing projects. However, choosing a good vendor is a must for this requirement. You have to follow a competent analysis and careful strategy starting from your selection, developmental process to final product delivery and maintenance.
Scalability without trouble – You can let your team be scalable on demand through eLearning outsourcing. You may easily involve a team as per your specific requirement without getting worried about retention, hiring or firing. Your vendor can take care of all your needs including the requirement for providing and training your resources. This is great for small organizations. Moreover, it helps to start project quickly, ramping up team faster and putting projects on hold without any extra charge.
Improved quality through innovation – If you choose a good eLearning vendor, you can get improved quality. This is a spontaneous outcome of constant development that your vendor handles by working with various clients. The experience gathered by working with diverse customers helps the vendor to anticipate the problems of your projects much in advance and can successfully deal with troubles whenever required. Often, you will find the vendors to propose value added input based on their earlier expertise. Now, the question is how much can you actually trust your vendor for the innovative solution? Is it more than your internal team players? Well, since it is the business of the vendors, it is more likely that they will spend more time in innovation for improving quality.
Project risk reduction – Remember that while you are outsourcing, you should define your project thoroughly to get your RFPs prepared. This helps in reducing the risk to a great extent as all you require is in one single document, including the contract of key stakeholders. The vendor can better manage the development process with apt documentation including test plan, specification sheet, project plans, storyboards, pre-defined delivery and sigh-off procedure, ensuring project success. You may also consider diversification of risk by dividing work among several vendors.
Reliability on project completion – You will often find that many organizations that you are outsourcing are solely responsible for eLearning development as core business. As a result, all developments and systems are specially defined and well geared up for delivering eLearning projects and products. Hence, there is very less chance of the resources to get diverted to some other important tasks. This is mostly common while working with internal team members of the project. The dependability signifies a lot for certain critical training programs.
Emphasis on strategic objectives – This is one of the most significant benefits you can get from eLearning outsourcing. It helps in bringing more emphasis to strategic tasks of your training function without sacrificing quality. You can spend your valuable time on future planning about how your organization and business can change and about the essential skills for your present and future growth. This helps in evaluating the success of training program and you can map the success against your business result, enhancing the whole training as well as the development operation to align with business requirement and implement cultural change plan of your organization to get it prepared for coming days.